Students help massive Tiger Testing effort run smoothly
Student Kerri Zalba works on scheduling, check in, running tests, and managing results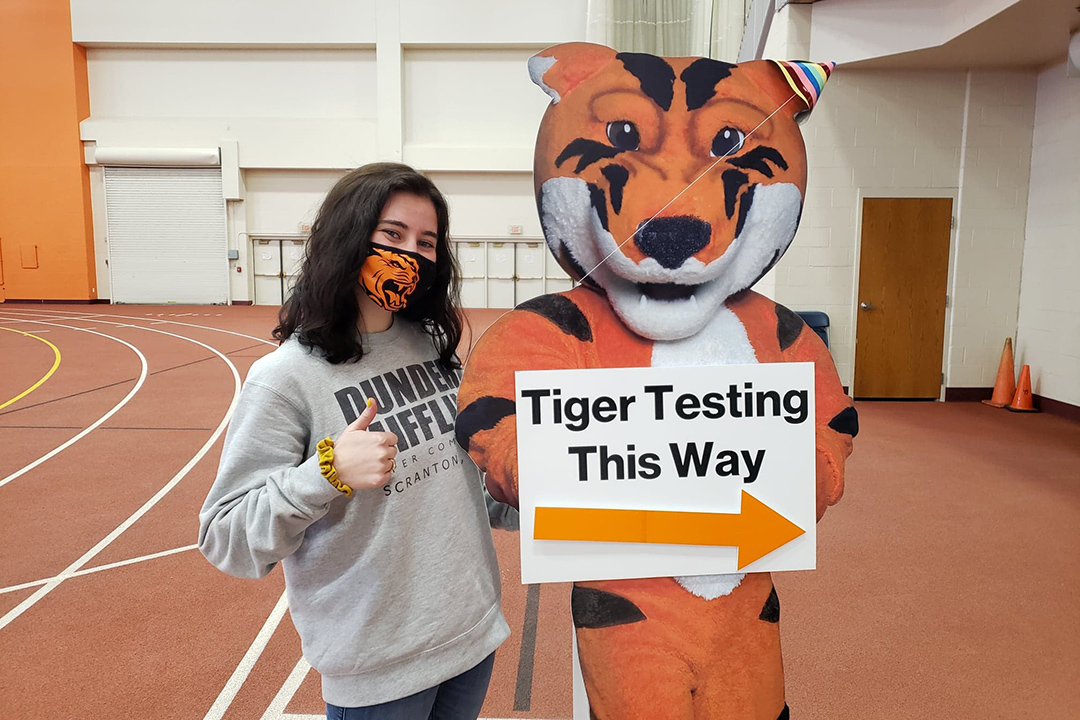 RIT student Kerri Zalba usually shows off her talents on the soccer field, but this year, she has expanded her extracurricular activities to include working for the massive COVID-19 Tiger Testing effort happening weekly on campus. The fifth-year software engineering major from Mentor, Ohio, who also minors in communication, finds time in her busy schedule away from her participation in the Society of Software Engineers and as a founding member of business startup PAL Inc., a mobile app to assist therapists and their autistic clients, to ensure testing in the Gordon Field House runs smoothly.
Describe your role in the Tiger Testing effort.
I do a little bit of everything at Tiger Testing. My main responsibility at this point is helping to make sure everything runs smoothly; doing scheduling, working on Campus Groups, password resets, email issues, and directing, among other duties. I also hop into positions wherever I'm needed, such as running tests, checking people in, running controls, and managing results. I'm at Tiger Testing pretty much every day, all day! I really enjoy being there and helping as much as I can, and the staff makes it interesting every day. 
How did you get involved with Tiger Testing?
I got involved in Tiger Testing very early on. I've been working for Jeff Siegel as a student employee in athletics for the past four years, so when he was put in charge of the testing effort, he contacted me and asked if I would be interested in helping out. So, I've worked on Tiger Testing both semesters. 
Tiger Testing is such a massive operation. What have you learned throughout your work experience and what has surprised you the most?
It's a huge operation. The thing that has definitely surprised me the most is just how big it has gotten. Last semester, we operated out of a room in the back of the Student Life Center. We would test a couple hundred students a day and we thought that was a lot for the day. I never would have never imagined it getting this big and being so efficient. 
I think the thing I've learned most is how much of an impact small things can have on the entire operation. Where we have students stand, how we direct them to perform the tests, where we have people enter and exit—simple things like these make a huge difference in how the operation performs and how satisfied everyone is. 
What has been your experience working with the students who come in for testing?
The students are great. By now, they know exactly what they need to do when they get here. We are doing a massive amount of testing every week, even compared to other schools. This operation can't be successful if we don't have students who are so good about coming in every week and doing their tests. Everyone has gotten in such a good groove that we are able to make more appointments and test more students every week. 
The pandemic has been eye-opening for everyone. How has the pandemic impacted you and your university experience?
I'm sure it was strange for everyone who stepped on campus the first day back in person. It's crazy just seeing how much has changed and how all of our interactions are different now. Trying to find a sense of normalcy is difficult, especially first experiencing online and mixed classes, and even just navigating through campus. We just live in a totally different world now. I feel pretty thankful that we do go to a school that has a great background in how to effectively use technology to help us navigate through this, but it's obviously just a way different mindset and experience than in the past.  
I've done some pretty odd jobs at RIT working sporting events, but I never imagined anything like this, in college or even my life! It was definitely a little hard to wrap my mind around at first. It's pretty easy to get caught up in the mindset of, 'I can't believe this is actually my life now.' But it's also opened me up to a ton of new experiences and I've learned a lot of skills I never thought I would get from an on-campus job. I really love working with the people at testing, and I'm very thankful to have had this opportunity, even with the circumstances we are in.