RIT's first two Davitt Scholars set to graduate with clear visions for how to impact the world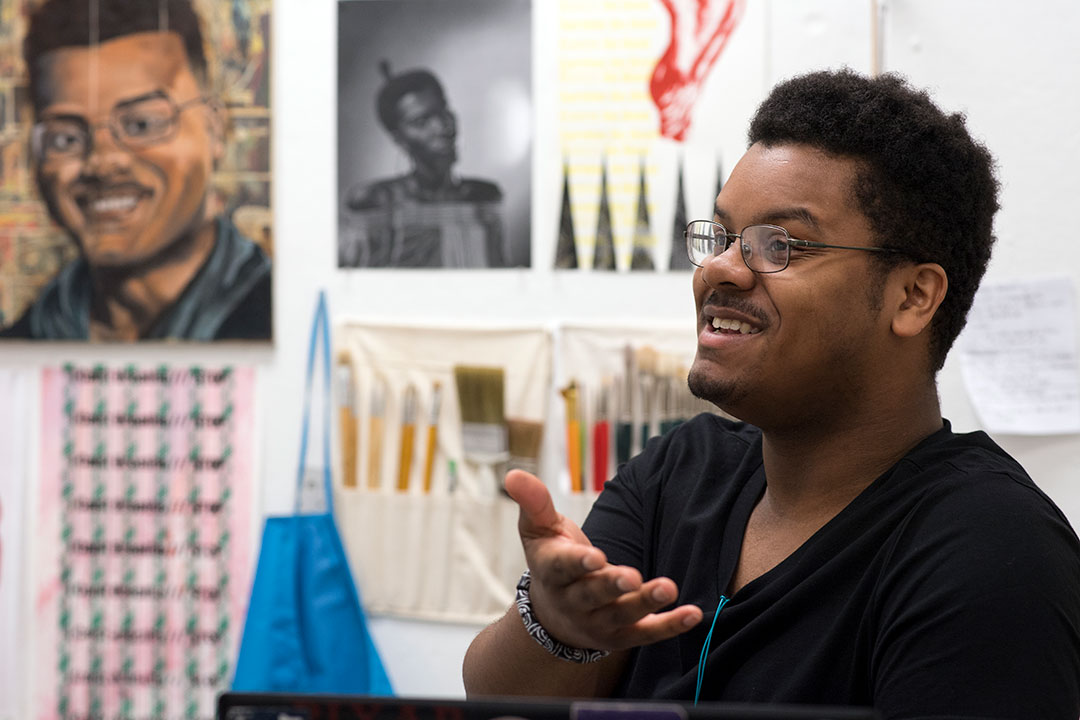 A. Sue Weisler
Unique Fair-Smith saw his future on a hot sauce bottle while he was a 10th-grade student at the World of Inquiry School.
His teacher brought him and other artistically inclined students for a visit to the RIT campus and as they passed by the illustration studios, he saw a glass case displaying hot sauce bottles designed by illustration students for a project. Something about it captivated him.
"I saw that and thought that is extremely cool and I want to do that," said Fair-Smith. "I walked away from that meeting in 10th grade knowing I wanted to go to RIT for illustration."
He achieved that dream thanks in part to funding from the Destler/Johnson Rochester City Scholars program and by his junior year at RIT, he had his own hot sauce bottle designs featured in the same showcase. He said standing in that same spot five years later taught him he controlled his own destiny and that he was achieving his dreams as a result of his hard work and choices.
So he set out to achieve more and after earning his illustration BFA in 2019, Fair-Smith decided to further hone his skills by pursuing his master's degree in fine arts studio.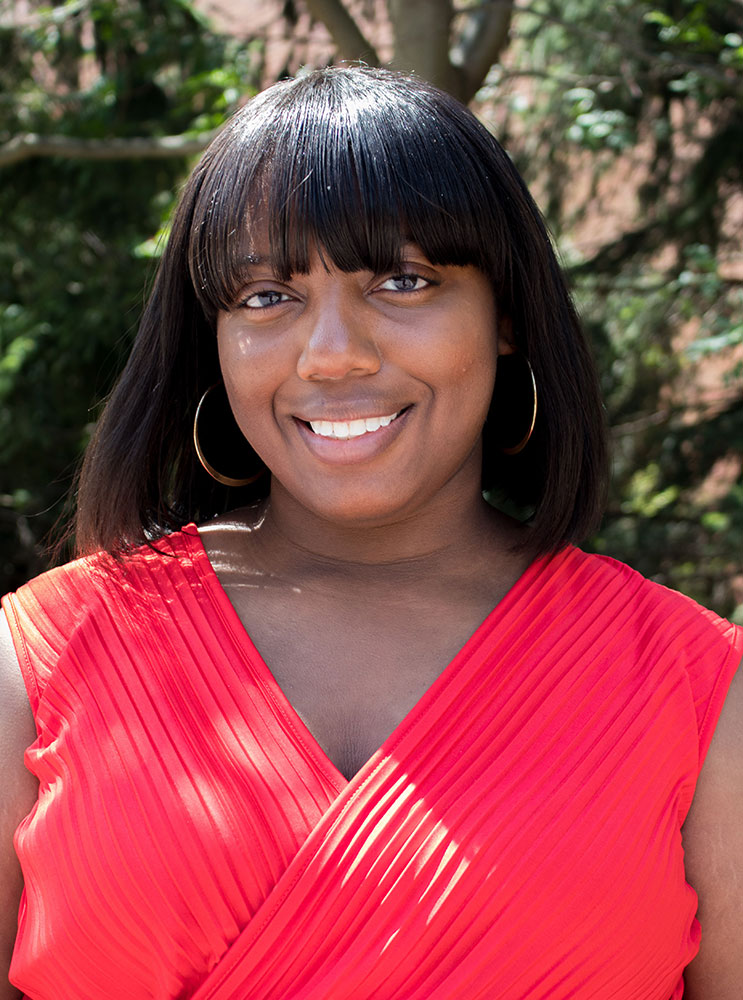 He became one of the first two recipients of the Mark and Maureen Davitt Graduate Education Endowed Scholarship, established with a $500,000 gift to the university by Mark and Maureen Davitt to help graduates from the Rochester City School District pursue advanced degrees. Now he and his fellow founding Davitt Scholar Tymoni Correa-Buntley are both set to graduate with their master's degrees and were selected to serve as delegates during RIT's commencement ceremonies.
Working under the guidance of advisors, including Professor Luvon Sheppard, Associate Professor Clifford Wun, and Professor Eileen Bushnell, Fair-Smith refined his craft in oil painting and screen printing, exploring themes of oppression and liberation, exploring systemic impacts and how they affect people. He said that after graduation he will pursue residencies, grants, and commissions to develop his body of work and hopes to improve representation in the art community.
"My work generally leans into an interest of social realism, depicting people as they are on their own terms and not the terms projected onto them," said Fair-Smith. "I'm compelled to give people room to express their own narratives, particularly people who are not always prioritized in the continuity of fine arts or the arts in general, which includes the LGBTQ community, the Black community, and other demographics that wouldn't be frequently seen."
While Fair-Smith transitioned straight from undergraduate to graduate school, his fellow Davitt Scholar Correa-Buntley took a different path.
After graduating as a double major in journalism and political science in 2017, she went to work for several years at local TV and radio news stations. But Correa-Buntley became disheartened by what she saw in the industry and decided she needed to go back to school to make a positive change. Funding from the Davitt Scholars program and the School of Individualized Study allowed her to do so.
"I got really fed up with how news organizations operated," said Correa-Buntley. "They wanted to strictly target white suburban communities and I felt like it was a slap in the face. I'm an Afro Latina, born and raised in Rochester, and you're basically telling people like me that we don't matter. So I wanted to learn more about the marketing and business aspect of news, so that's what brought me back."
Correa-Buntley's time in graduate school has not been easy—when classes started she also became full-time caregiver for her grandmother, who ultimately died of cancer the first day of Correa-Buntley's second semester. The coronavirus pandemic has also prevented her from setting foot on campus since February of 2020. But she persisted and is finishing her professional studies master's with concentrations in entrepreneurship and criminal justice.
She has worked closely with Associate Professor Irshad Altheimer from the Center for Public Safety Initiatives and Postdoctoral Researcher Katrina Overby from the School of Communication to closely study the intersections of media, public safety, and race.
Her capstone focused on why there is a lack of trust with communities of color in local news organizations. Recently, she hosted a roundtable discussion with local newsroom leaders to highlight some of the central issues and solutions that can help repair these relationships. She also created a toolkit designed to help local news organizations make proactive changes.
After graduation, she hopes to use her passion for storytelling to support advocacy groups dedicated to progressive criminal justice reform and equality.
"I'm very glad I went back to school for my master's," said Correa-Buntley. "Graduating this time I feel like I have so much more education and experience under my belt that I feel like I'm not going into the world to be taken advantage of."
Twyla Cummings, RIT's associate provost and dean of Graduate Education, said she is proud to see RIT's first two Davitt Scholars poised to make such positive impacts on the world.
"When this scholarship was established in 2018 it was clear that it would provide an important opportunity for graduate students from underrepresented populations to pursue advanced degrees," said Cummings. "Mark and Maureen Davitt have been incredibly generous to RIT and they are trailblazers for graduate education support. I hope knowing that this scholarship has been a game changer for the first recipients and will be for those that follow, shows our sincere appreciation."
Topics